What is a Local SEO Checklist and Why do we need it?
Local SEO is optimizing your website for local searches in a search engine. That then begs the question, what are local searches? You probably use them every day and don't even realize it. Let's say you are visiting Chicago, IL, and want deep dish pizza (I mean, who wouldn't?). Your search most like is Chicago Deep Dish Pizza. That is a local search and one that a lot of pizza restaurants need to optimize. Another example would be if you need a plumber, you might type Chicago plumber in Google.
So How do you rank for those local keywords?
Google My Business is the essential activity you can do to help your brand in Google's eyes.
First, you need to sign up and confirm you are the business owner or a representative. Go to https://www.google.com/business/ and then click the "Manage Now" button. Sign in with a valid Google account (like Gmail) and follow the instructions. You must verify your Google listing, usually via a postcard sent to you in the mail. Some other options are the phone, email, or video chat, but Google will give you the choices it wants.
OK, I am verified, now what…
First and foremost, use your real business name. Don't try to game the system with location keywords. Next, make sure and pick a category that best describes what your business does. Then do the basics like proper address, local phone number, and your website URL. Just a word of caution, if you are updating an already listed account, make sure all the information is accurate. Delete any false information or duplication on the account.
While you are at it, also upload pictures of the company, a video walk-thru, and products, you sell. Think about what your customers might want to know and add that were you can in the different sections. Don't think about what you want to list but what a potential customer would want to know.
There is a ton more information to do with a listing, but this article is discussing a broader topic of Local SEO. I recommend you check out this article on GMB checklist
What is NAP?
Name, address, and phone number is an essential topic in Google's eyes. If Google is going to send someone to your store, it wants to be sure what your address is. It makes total sense! But what if you list seven different variations of the business address on the interwebs? It is challenging to determine which one is correct, and if you are a local business. While it seems like a simple concept, it is not. What happens is different people fill out the information, and all use variations because they don't understand the importance. To be clear, this isn't just your website; it is everyplace your name address and phone show up across the internet.
Service Locations in a local SEO Checklist
I have this listed as a separate category, just like NAP. It is something that can get screwed up easily and leads to issues down the road. Don't try to game the system by putting as many areas as you can. You must genuinely service those areas. Make sure you list them on your website as well as on any citation sites. Optimize any pages with pictures and content from that area to add relevance.
Local SEO Citation Building
A citation, in our context, means a simple mention of your name, address, and phone number on a third party website. These citations can be located nearly anywhere on the web like social media pages, media outlets, review directories, business directories, and local publications.
There are two types of citations, structured and unstructured. The structured citation is when your data gets assigned to a specific field like name and address. Whereas unstructured citations are mentions in a blog post or news article not associated with a specified field like business name in a form.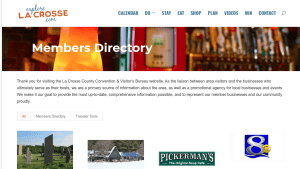 Many local directories are too numerous to discuss. Here is a quick example of one, https://www.explorelacrosse.com/member-directory/
They are there to help people find local businesses and can also drive some traffic if they become popular enough. It can be challenging but use Google to find these local-based directories by using search operators. An example may be [ "city + keyword" inurl:member-directory ].
Rather than discuss all 50 of the top citation sites I am going to link to a great article that discusses the largest citation sites in the US. https://whitespark.ca/top-local-citation-sources-by-country/united-states/
For my money, GMB, Yelp, Facebook, Apple, and Bing are the ones I would do first. Yelp and Facebook are on the list because so many people visit those sites, and you want to have a presence. The other three are more for authority, positioning you as a real business.
As part of the citation building, I would also recommend doing a competitor analysis of their citations. They may have directories you have never heard about where your potential customers go. Since you and your competitors share the same demographics, it only makes sense to be in the same places.
While a separate action than getting listed, it still has to do with many of the citation sites. What is it, you ask? Getting reviews to those sites to show Google you are real and serving people. What better way to show anyone that you are real business than to have an extensive amount of reviews. Review generation is a crucial online marketing tactic that should be at the top of the business owners' minds. Encourage reviews on GMB or any of the leading review sites and also make sure to check them often and respond to every review. Even a bad review is an opportunity to show people customer service is something you care about. Finally, you can put reviews on your website and get star ratings in Google with the review schema.
Local SEO Checklist for your website.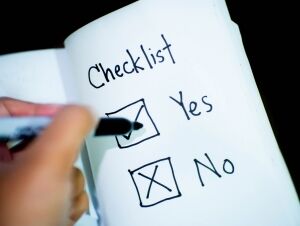 So far, everything we have discussed has been considered off-site. Meaning it has nothing to do with your website. Your website is an essential factor in ranking locally. I am not going to go over good SEO in-depth as many articles on my site do that. What I will focus on in this article is some of the different things you can do to help local rankings.
The first step in ranking your website is adding structured data or schema. You can add it in many ways like menu, website, products, and location. Google highly recommends schema as it helps the search engine understand your business.
Next, you need to have localized content. You shouldn't have generic content on your site as an international company has. It is OK to talk about local things like events, fund-raisers, parades, or other local businesses. Content is brand specific but always include your locale when it makes sense. Along this line, you can also help target locally by adding location modifiers to keywords. For instance, if you repair cars, don't optimize for car repair but add your city like St Louis car repair. You can even go into neighborhoods if the town is big enough.
As for local link building, try as hard a possible to get links from local sites. I find community newspapers and local bloggers help add relevance to your site's location as they usually discuss local events. Still, try to get links from anywhere if they are niche relevant and authoritative.
The most important pages of your website in regards to our Local SEO Checklist are the homepage, about us page and contact us page. The homepage is where most people land, so it makes sense to have a blurb like serving "list your areas served." You want your main title and meta description to have your location and possibly a phone number to make it easy to get a hold of your business. I think it is also essential to have your address listed in bold somewhere on your homepage as well.
The about page is another opportunity to talk about living and working locally. Why you choose to live there and any local charities you belong too. You can talk about your favorite landmarks, or if you grew up in a nearby neighborhood, the schools you attended. It is an excellent opportunity to show you are a local person who owns a local company.
As for the contact us page, you want to treat it as a citation. You will want your NAP filled out correctly on this page. I also recommend putting Google maps with directions from multiple common locations. I like to use location-specific images to include pictures of the building and a street view when possible.
Here are some random thoughts to improve your Local SEO checklist marketing.
Make sure you use a clickable phone number and email for mobile phones. It is a lot easier to send a note when you have to press a button!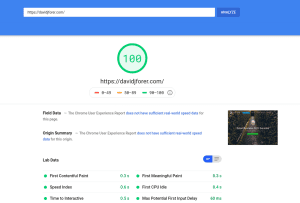 Make sure your entire site is mobile optimized and loads fast. Over half of all searches happen on phones.
Use FAQ's to show local prominence again on specific pages that people may have questions. Some things may be service area, delivery area, or helping with local ordinances. These FAQs can also show up in search results if you use FAQ schema.
Get listed on aggregators. Add your site to significant data providers like Factual, Acxiom, Infogroup, and Localeze. Many services buy these lists to populate their website, and you will control the information.
Closing Thoughts.
Getting local SEO done is an important aspect to rank locally. As a small business, you have the opportunity to compete with large stores based on your location. The main point to this whole article is Start Optimizing your website TODAY for local searchers.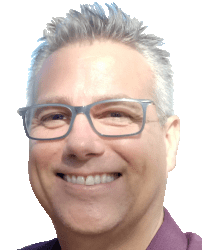 Latest posts by David J Forer
(see all)